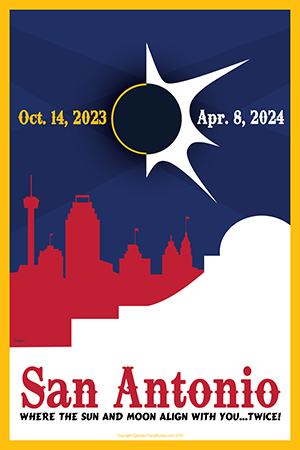 The American Astronomical Society (AAS) Solar Eclipse Task Force will host a solar eclipse planning workshop Friday-Saturday, September 29-30, 2023, at the Scobee Education Center at San Antonio College, 1819 N. Main Ave. San Antonio, TX, 78212. This workshop, cohosted by the University of Texas, San Antonio, will precede the 55th annual meeting of the AAS Division for Planetary Sciences, which will be held jointly with the Europlanet Science Congress at the Marriott Rivercenter October 1-6. (Registration for the two events will be separate.)
The workshop will be conducted in a hybrid format, accommodating both in-person and remote/virtual attendees. Plenary sessions and breakout discussions will be accessible in real time to off-site attendees via Zoom Events.
More information will be available soon. In the meantime, check out our June 2023 workshop in Albuquerque, New Mexico!