The resources linked below are intended for broad distribution and may be freely reproduced, printed, and disseminated as long as no changes are made to them.
Also, see our Royalty-free Images & Videos page.
---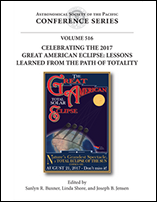 "Celebrating the 2017 Great American Eclipse: Lessons Learned from the Path of Totality" is Vol. 516 of the Astronomical Society of the Pacific Conference Series. Having sold out of the printed book, the ASP has kindly made its 60 contributed articles freely available as PDFs. Whatever your role in preparing for the coming American solar eclipses, you'll find many valuable tips on these pages. Our links point to a list of the articles on the NASA/SAO Astrophysics Data System (ADS). Click on any article title to go to its corresponding abstract page; from there you can download the PDF.
---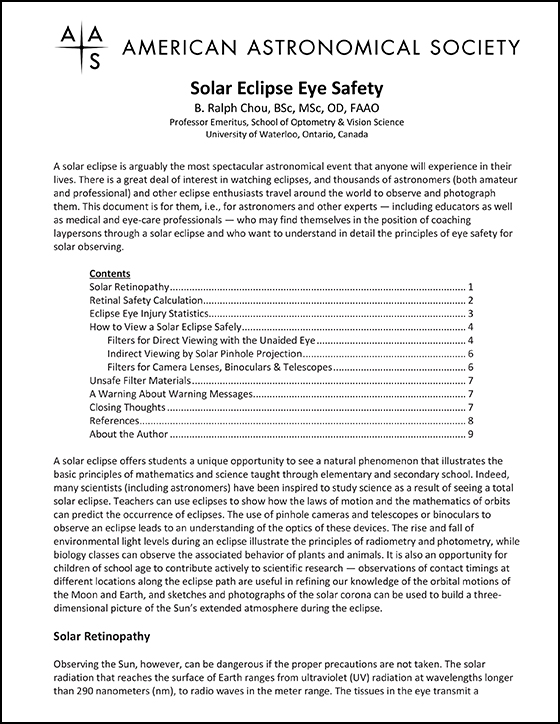 "Solar Eclipse Eye Safety" is a 9-page technical report written for the American Astronomical Society by Ralph Chou, Professor Emeritus in the School of Optometry & Vision Science at the University of Waterloo, Ontario, Canada. Dr. Chou was lead writer for the ISO 12312-2 standard on filters for direct observation of the Sun, which was adopted worldwide in 2015, and is widely recognized as a leading expert on protective solar filters. His report is intended for astronomers, educators, health-care professionals, the media, and anyone else who wants to understand how sunlight can damage the eye and what constitutes a safe solar filter.
---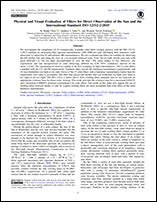 "Physical and Visual Evaluation of Filters for Direct Observation of the Sun and the International Standard ISO 12312-2:2015" is an 8-page open-access article in the September 2021 issue of the Astronomical Journal. Authors Ralph Chou, Stephen Dain, and Rick Fienberg — all members of the technical committee responsible for the ISO 12312-2 standard — evaluate samples of "eclipse glasses" and other solar viewers from 2017 against the standard and are developing some modifications to the standard based on their results. Our links point to the free article on the Astronomical Journal website.
---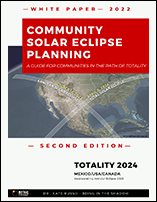 "Community Solar Eclipse Planning" is a 34-page primer on how to prepare your community for a total solar eclipse. This is a revised and expanded 2nd edition. Author Kate Russo is a psychologist and eclipse-chaser whose books Total Addiction and Being in the Shadow explore what drives some people to organize their lives around experiencing total eclipses of the Sun. Dr. Russo has helped communities large and small, in several countries, get ready for an influx of eclipse-chasers. If your city or town lies within the path of totality on April 8, 2024, and you're a government, public-safety, public-health, or tourist-industry official, this white paper is for you. Our links point to Dr. Russo's website, where you can download the white paper.
---
"Total Solar Eclipse on August 21, 2017: Special Event with Coast-to-Coast Traffic Congestion" is an article from the September-October 2018 issue of TR News — a transportation industry magazine — examining the unprecedented traffic congestion that occurred as people departed their observing sites after the "Great American Eclipse." Lessons learned from that event, along with an understanding that viewers will travel by the millions, can help transportation agencies, public-safety departments, and local communities be better prepared for the April 8, 2024, total solar eclipse. The single best piece of advice: Find ways to encourage visitors to arrive early and, most importantly, stay late rather than hit the road immediately after the eclipse.
---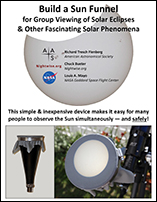 "Build a Sun Funnel for Group Viewing of Solar Eclipses & Other Fascinating Solar Phenomena" is a step-by-step illustrated guide to constructing a simple, inexpensive device that enables multiple people to observe a projected image of the Sun simultaneously and safely. Written by Rick Fienberg (AAS), Chuck Bueter (NightWise.org), and Lou Mayo (then at NASA's Goddard Space Flight Center), the document is intended for amateur and professional astronomers who know how to operate a telescope for solar observing and includes a detailed explanation of the mathematical underpinnings of the Sun Funnel design (or not, as you wish).