The resources linked below are intended for broad distribution and may be freely reproduced, printed, and disseminated as long as no changes are made to them.
Also, see our Royalty-free Images & Videos page and NASA's Downloadables page.
---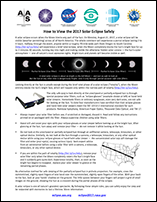 "How to View the 2017 Solar Eclipse Safely" is a 1-page flyer intended for the general public. If you're selling or giving away "eclipse glasses" or handheld solar viewers at an eclipse-watching event, we recommend that you hand out this flyer along with the manufacturer's instructions. The flyer was written by members of the AAS Solar Eclipse Task Force with support from the National Science Foundation and assistance from experts in eclipses, solar observing more generally, and eye care. The advice on the flyer has been endorsed by NASA, the American Academy of Ophthalmology, the American Academy of Optometry, and the American Optometric Association.
---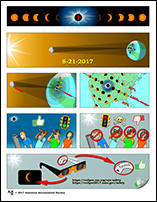 We created our 2-page Solar Eclipse Safety Flyer in response to requests to translate our 1-page flyer (see above) into more languages than just Spanish. We thought, "Why not use graphics instead of text, so that one 'translation' will work in all languages?!" If you're selling or giving away "eclipse glasses" or handheld solar viewers at an eclipse-watching event attended by people who don't all read English or Spanish, we recommend that you hand out this flyer along with the manufacturer's instructions.
---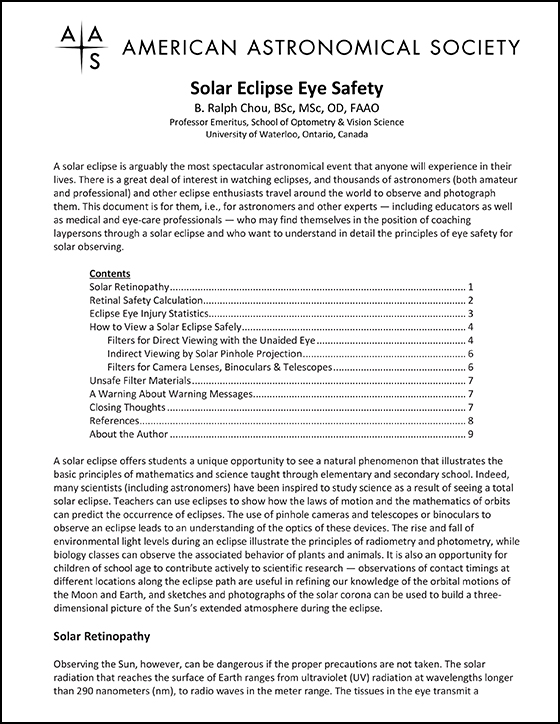 "Solar Eclipse Eye Safety" is a 9-page technical report written for the American Astronomical Society by Ralph Chou, Professor Emeritus in the School of Optometry & Vision Science at the University of Waterloo, Ontario, Canada. Dr. Chou was lead writer for the ISO 12312-2 standard on filters for direct observation of the Sun, which was adopted worldwide in 2015, and is widely recognized as a leading expert on protective solar filters. His report is intended for astronomers, educators, health-care professionals, the media, and anyone else who wants to understand how sunlight can damage the eye and what constitutes a safe solar filter.
---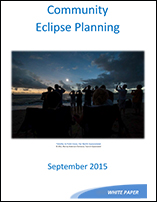 "Community Eclipse Planning" is a 14-page primer on how to prepare your community for a total solar eclipse. It was produced by Kate Russo, a psychologist and eclipse-chaser whose book Total Addiction explores what drives some people to organize their lives around seeing total eclipses of the Sun wherever and whenever they occur. Dr. Russo has helped communities large and small, in a variety of different countries, get ready for an influx of eclipse-chasers. If your city of town lies within the path of totality on August 21, 2017, and you're a government, public-safety, or public-health official, this white paper is for you.
---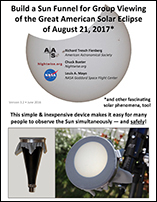 "Build a Sun Funnel for Group Viewing of the Great American Solar Eclipse of August 21, 2017" is a step-by-step illustrated guide to constructing a simple, inexpensive device that enables multiple people to observe a projected image of the Sun simultaneously and safely. Written by Rick Fienberg (AAS), Chuck Bueter (NightWise.org), and Lou Mayo (NASA Goddard Space Flight Center), the document is intended for knowledgeable amateur and professional astronomers who know how to operate a telescope for solar observing and includes a detailed explanation of the mathematical underpinnings of the Sun Funnel design.
---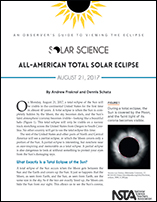 "All-American Total Solar Eclipse" is an 8-page observing guide ideal for sharing with middle-school students and their families as well as with community leaders. It is adapted from the book Solar Science: Exploring Sunspots, Seasons, Eclipses, and More written by award-winning science educators Dennis Schatz and Andrew Fraknoi and published by the National Science Teachers Association. The guide summarizes where and when to see the eclipse across North America, how to observe it safely, and how to understand and explain what causes it. The book it comes from offers dozens of hands-on, inquiry-based activities on solar astronomy.
---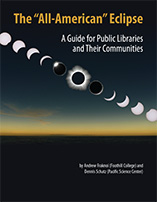 "The 'All-American' Eclipse: A Guide for Libraries and Their Communities" is a 24-page guide developed for the STAR Library Education Network (STAR_Net) and its NASA @ My Library project. Thanks to the Gordon and Betty Moore Foundation and Google, 2 million solar-eclipse glasses will be distributed free through education and public outreach programs held at more than 2,000 public libraries across the U.S. for the August 2017 solar eclipse. The project was conceived by Andrew Fraknoi (Foothill College), Dennis Schatz (Pacific Science Center), and Douglas Duncan (University of Colorado). They brought the idea to Paul Dusenbery at the Space Science Institute, which already had an active network of libraries working with NASA to engage the public in space-science programming.
---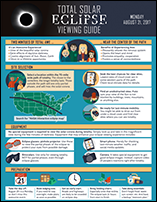 "Total Solar Eclipse Viewing Guide" is an infographic adapted from Bryan Brewer's book Eclipse: History. Science. Awe. (Earth View, 2017), which we link to from our Books & Articles page. It offers seven key pointers to help you optimize your eclipse viewing experience. Brewer and his publisher encourage everyone to freely share his infographic online or in print. We're making the infographic available here as vertical and horizontal PDFs; you can visit the Eclipse Media Kit page to find it in a variety of other formats.