The Solar Eclipse Task Force of the American Astronomical Society (AAS) seeks proposals to host 2- to 3-day planning workshops for the October 14, 2023, annular solar eclipse and April 8, 2024, total solar eclipse, both of which will be visible across North America. Proposal deadline: Friday, June 11, 2021 extended until Friday, July 2, 2021.
Introduction & Background
On August 21, 2017, the continental U.S. experienced its first total solar eclipse (TSE) in a generation and the first to cross from coast to coast in a century. More Americans watched the eclipse than tuned in to any previous scientific, athletic, or entertainment event. From Oregon to South Carolina some 20 million people witnessed totality, or "darkness at midday," when the Moon completely covered the Sun's bright face to reveal the diaphanous solar corona surrounding the jet-black lunar silhouette in a twilight-blue sky with pastel sunset colors all around the horizon.
In the five years leading up to the 2017 TSE, the AAS Solar Eclipse Task Force organized a series of annual workshops involving professional and amateur astronomers; formal and informal educators; representatives of tourism bureaus, Chambers of Commerce, and the hospitality industry; and officials from departments of transportation, state and national parks and forests, law-enforcement agencies, and emergency-management organizations. These workshops were instrumental in helping communities in the path of totality manage an influx of visitors; in developing and disseminating appropriate eye-safety information nationwide; and in coordinating the efforts of numerous scientific, educational, governmental, and other organizations to avoid unnecessary overlap. This planning paid off, as there were very few eye injuries and — aside from some massive traffic jams as people left their eclipse-viewing sites — almost no other problems.
On Monday, April 8, 2024, the U.S. will be treated to another TSE. This time the Moon's dark shadow will pass from Texas to Maine rather than from coast to coast, but the path of totality will be wider and touch more big cities than in 2017. Moreover, just six months earlier, on Saturday, October 14, 2023, the country will experience an annular solar eclipse (ASE), when the Moon passes directly in front of the Sun but does not appear quite large enough to completely cover it, turning our daytime star into a thin "ring of fire." The partial phases of both eclipses will be visible (weather permitting) across nearly all of North America, including the United States, Canada, and Mexico.
Planning Workshops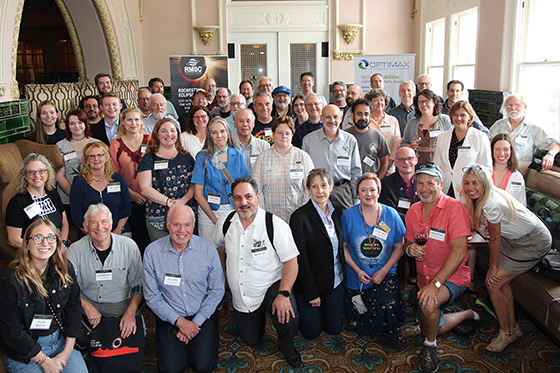 The first AAS Solar Eclipse Planning Workshop for the 2023 and 2024 eclipses was held in St. Louis, Missouri, in June 2019. Over the course of two days, more than 80 community leaders and other stakeholders from both inside and outside the paths of annularity (2023) and/or totality (2024) met to share lessons learned from our 2017 experience and to forge new partnerships to work on preparing local communities; addressing traffic and transportation issues; equipping formal and informal educators and outreach practitioners with eclipse-related information and activities for students, families, and the public; and addressing the challenge of how to get the news media to provide sufficiently advance notice of the coming eclipses.
Plans for a 2020 workshop were disrupted by the COVID-19 pandemic. A virtual workshop was held in April 2021; we intend to resume annual in-person workshops in 2022 and are looking for organizations and institutions willing and able to host them. Candidates include, but are not limited to, science museums and planetariums, colleges and universities, and other institutions engaged in, or supporting, science education and/or public outreach. We encourage partnerships among multiple organizations within the same city or region to propose together.
Requirements & Preferences
We prefer venues within the 2023 path of annularity and/or the 2024 path of totality, not because communities outside the path should be ignored (they shouldn't), but because communities inside the path will likely be more motivated to go "all in" to prepare for the 2023 and/or 2024 eclipse due to the anticipated influx of visitors. Unless there's a compelling reason to choose a different time of year, we prefer workshops on the pre-anniversary dates of the eclipses, i.e., in early April or mid-October. Ideal venues will feature the following:
Meeting space for up to 125 attendees in plenary sessions and smaller spaces for multiple simultaneous breakout sessions.
Proximity to an airport (preferably a major one), as people will attend from all over the U.S. and, we hope, from Canada and Mexico too.
Availability of convenient, comfortable, and reasonably priced hotel/motel accommodations nearby.
Broadband internet service with free wireless connectivity for attendees and support for live-streaming and recording of workshop content.
Note: The AAS Solar Eclipse Task Force has no funding to offer workshop hosts. Any expenses not covered by in-kind contributions (e.g., complimentary meeting space provided by a planetarium or university) would have to be offset by registration fees and/or donations from local companies or other organizations.
Proposal Form & Deadline
Proposals must be submitted using our online form:
Submit a Proposal to Host an Eclipse Planning Workshop
The deadline for receipt of proposals is Friday, June 11, 2021 July 2, 2021, at 11:59 pm Eastern time.
Questions? Email eclipse@aas.org.
— AAS Solar Eclipse Task Force
Angela Speck (University of Texas, San Antonio), Co-Chair
Claire Raftery (National Solar Observatory), Co-Chair
Rick Fienberg (AAS), Project Manager