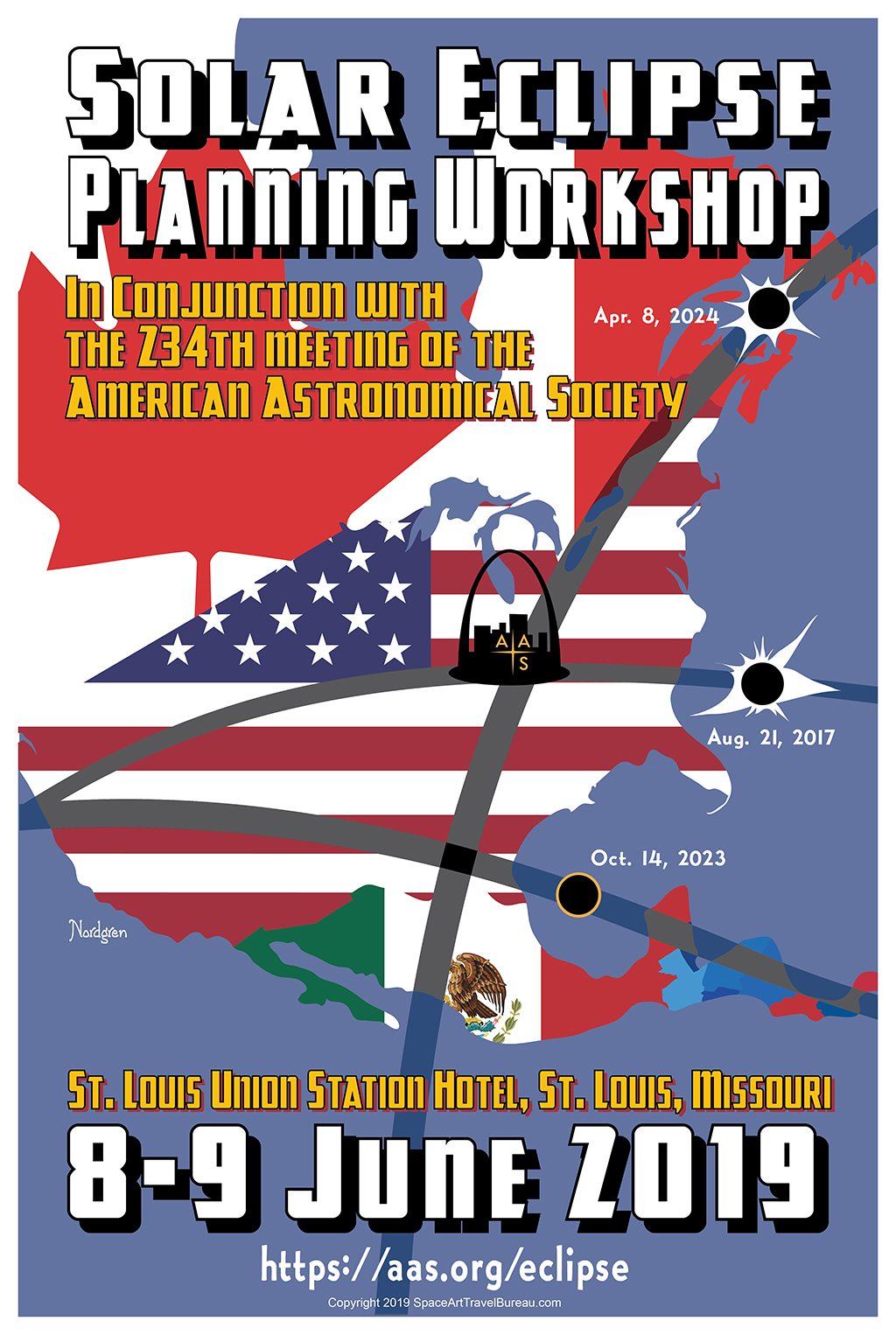 Five years out is not too early to start planning for the 2023 and 2024 solar eclipses, taking advantage of lessons learned from the 2017 event. Accordingly, the AAS Solar Eclipse Task Force organized the first in a new series of annual planning workshops. It was held in conjunction with the 234th AAS meeting in St. Louis, Missouri, in June 2019. The 1½-day workshop, Saturday-Sunday, 8-9 June, was aimed at community leaders and other stakeholders both inside the paths of annularity (2023) and/or totality (2024) and outside, for — as in 2017— the entire Lower 48 states will experience at least a deep partial eclipse. We were particularly happy to welcome participants from Canada and Mexico, as the October 2023 ASE and April 2024 TSE grace one or both of those countries too.
Invited speakers included event coordinators who experienced the 2017 TSE and will see darkness again in 2024 (e.g., southeastern Missouri and southern Illinois) as well as transportation experts and others who can present studies of the 2017 eclipse and offer recommendations for the upcoming events.
What: Solar Eclipse Planning Workshop
Where: St. Louis Union Station Hotel, 1820 Market St., St. Louis, MO 63103
When: Saturday, 8 June 2019, 9:30 am − 4:30 pm, and Sunday, 9 June 2019, 10:00 am − 3:00 pm
Program: Download the PDF!
Recording: Although we were not be able to live-stream the workshop, we recorded all sessions and will post the videos on YouTube. Once that's done, we'll add a link here.