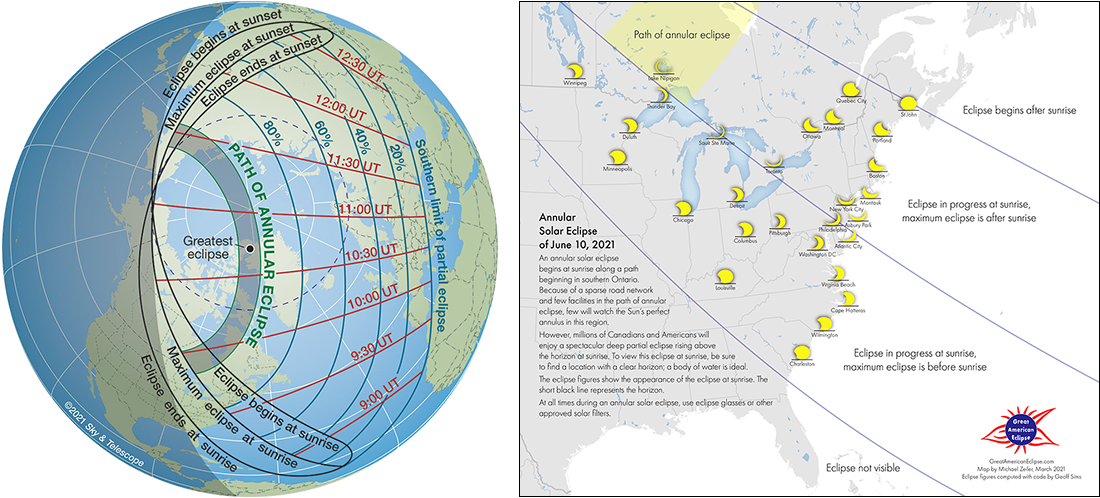 Thursday, June 10, 2021: Mark Your Calendar!
The last solar eclipse visible from the continental United States was the coast-to-coast total eclipse of August 21, 2017. An estimated 20 million people saw the Moon completely cover the Sun within a narrow path from Oregon to South Carolina, and hundreds of millions more across all of North America and northern South America saw a partial solar eclipse that day.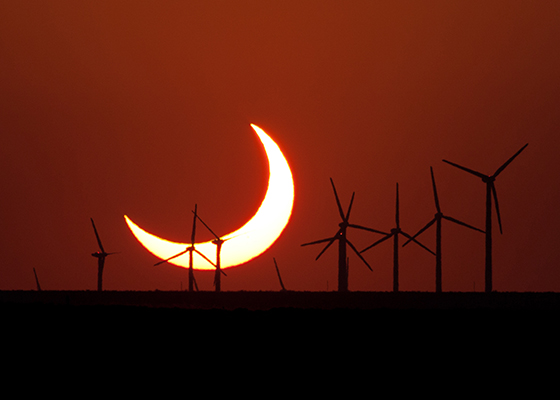 Not quite 5 years later, another solar eclipse is coming to North America. On June 10, 2021, the Moon will again pass directly between Earth and the Sun — but this time it will not quite completely cover the solar disk, instead turning it into a thin "ring of fire." This annular (Latin for ring-shaped) eclipse will be visible only in remote, sparsely populated, often hard-to-reach parts of northeastern Canada, Greenland, and Siberia.
Combined with ongoing pandemic-related travel restrictions and less-than-optimal weather prospects, the remoteness of the path means that very few people will see this annular eclipse. (Notable exception: Sky & Telescope is offering an opportunity for a fortunate few to catch the "ring of fire" from the air.) But millions of Americans and Canadians northeast of a line running from central Alaska to central Alberta to central North Dakota to the border between Georgia and South Carolina will have a chance to see a picturesque partial solar eclipse at sunrise that morning.
The illustrations at the top of this page show where the annular and partial phases will be visible on June 10th if the weather cooperates; you'll find more detailed information about the event at the links below. Since there will always be plenty of the Sun's bright face showing, it is absolutely essential throughout the entire eclipse to view through a safe solar filter, that is, one that meets the ISO 12312-2 international standard. Such filters are widely available and cost at most a few dollars. Looking at the uneclipsed or partially eclipsed Sun through dark sunglasses or any other unapproved filter is a recipe for serious and potentially permanent eye injury. See our Eye Safety and Resources pages for details.

Note that the June 10, 2021, eclipse is a mere warm-up for two more solar eclipses coming to North America: Another annular eclipse on October 14, 2023, and a total eclipse on April 8, 2024. Those will be much more widely visible and, in the latter case, will include another opportunity to see one of nature's most glorious sights: the jet-black silhouette of the Moon surrounded by the ethereal solar corona in a twilight sky with dawn/dusk hues all around the horizon.
More Information About the Solar Eclipse of June 10, 2021