Here you'll find links to suppliers of solar filters and viewers that you can be confident are safe when used properly. These include companies and organizations with which members of the AAS Solar Eclipse Task Force have had prior (and positive!) experience as well as companies and organizations that have demonstrated to our satisfaction that their products meet certain requirements of the ISO 12312-2 international standard, as described on our "About the ISO 12312-2 Standard for Solar Viewers" page. If a supplier isn't listed below, that doesn't necessarily mean its products are unsafe — see the disclaimer below. For instructions on how to observe the Sun safely, see our Eye Safety pages. Suppliers: See below.
---
Eclipse Glasses & Handheld Solar Viewers
The following companies manufacture or import eclipse glasses, handheld solar viewers, and/or sheets or rolls of solar-filter material for direct viewing of the Sun's bright face. They are listed in alphabetical order; those with an asterisk (*) are outside the United States. Be sure to read our safety tips before using eclipse glasses or handheld solar viewers.
Manufacturers & Importers
Note 1: Baader Planetarium's AstroSolar Safety Film and AstroSolar Photo Film, sold in the U.S. by Alpine Astronomical and Astro-Physics (see below), are not certified to meet the ISO 12312-2 international standard and are not designed to work as eclipse shades or handheld solar filters. Baader's AstroSolar Silver/Gold Film, on the other hand, does meet the transmittance requirements of the ISO 12312-2 standard for filters for eyes-only direct viewing of the everyday Sun, and that's the product we link to here.
Distributors & Resellers
The following companies and organizations sell eclipse glasses made by one or more of the companies listed above. If you buy from any of the following businesses, you know you are getting safe solar viewers:
Free Eclipse Glasses for Libraries
Calling all public librarians! The STAR Library Network (STAR Net), managed by the Space Science Institute, is offering free eclipse glasses along with supporting information, training, and ideas for activities to conduct at eclipse events at U.S. public libraries. Learn more, and register to participate, on the Solar Eclipse Activities for Libraries (SEAL) website.
---
Solar Filters for Telescopes, Binoculars & Camera Lenses
Solar filters for optics are meant to go over the aperture, i.e., the front opening, and should be used only by experienced observers. Some of the sources listed below sell aperture filters made from Baader AstroSolar Safety Film. While this material, unlike the newer AstroSolar Silver/Gold Film (see above), does not meet the transmittance requirements of the ISO 12312-2 international standard for eyes-only direct viewing of the Sun — it transmits slightly more ultraviolet light than the standard allows — it has been safely used by amateur and professional astronomers for several decades for observing and/or imaging the Sun through telescopes, binoculars, and camera lenses, whose glass elements filter out the excess ultraviolet light. Be sure to read our safety tips before using solar filters with optics!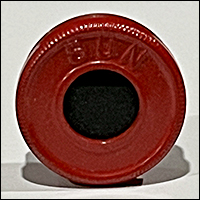 Warning: Solar filters designed to thread into an eyepiece at the back end of the telescope — where you put your eye — are dangerous; sunlight concentrated by your optics could destroy it and injure your eye in a flash — literally. If you have such a filter, such as the example shown at right, discard it. We'll say it again: A solar filter must be attached to the front of your telescope, binoculars, or camera lens.
To find telescopes and binoculars specially made for observing the Sun, see the Special-Purpose Solar Binoculars & Telescopes section of our Telescopes & Binoculars page.
---
Solar Filters for Smartphones
The following product includes a safe solar filter and a set of Velcro dots that enables you to temporarily secure the filter over the lens(es) of your smartphone camera. Using the accompanying Solar Snap app, which is available for free in versions for iPhones and Android phones, you can then choose appropriate exposure settings to shoot photos of the uneclipsed, partially eclipsed, or annularly eclipsed Sun. You can use the app to capture images of the totally eclipsed Sun, too, but you'll need to remove the filter during totality or your images will be blank.
---
Solar Optical Projectors
The following devices are used for indirect solar observation. They use lenses and mirrors to project an image of the Sun onto a white surface. In other words, you don't look through them — you look at them. Be sure to read our safety tips before using a solar optical projector!
---
Note to Suppliers: If you're not on this page and want to be added, see "How to Get Onto Our List of Suppliers of Safe Solar Filters & Viewers."
---
Disclaimer: We cannot commit to listing every company or organization that sells or gives away safe eclipse glasses and/or handheld solar viewers, as there are literally hundreds, perhaps even thousands, of such suppliers, including science museums, planetariums, observatories, university astronomy departments, primary and secondary schools, amateur astronomy clubs, convention and visitor bureaus, tour operators, large stores, small shops, and more. We reserve the right to list only major retailers and organizations with significant national or regional distribution. Before buying or accepting eclipse glasses or handheld solar viewers, ask who made them or imported them. Be wary if you don't get a clear answer and/or if the supplier isn't listed on this page.