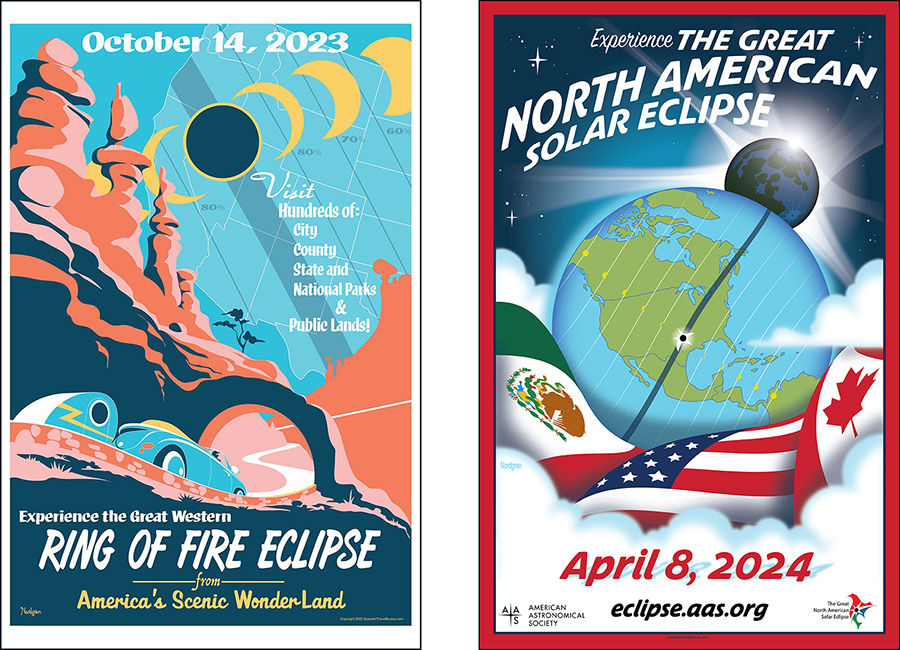 FREE Public Presentation
Wednesday, June 7, 2023, 7:00 pm MDT
Albuquerque Journal Theatre
National Hispanic Cultural Center
1701 4th Street SW, Albuquerque, NM 87102
Two Solar Eclipses Are Coming to Albuquerque!
All of Albuquerque and parts of several Native American pueblos and reservations lie within the path of the annular (ring) solar eclipse of October 14, 2023. Based on climate records, the area has excellent odds of clear skies for this event, and numerous tour groups are New Mexico–bound to watch the Moon pass across the Sun's bright face. Coincidentally, October 14th falls on the last Saturday of the world-renowned International Balloon Fiesta, drawing even more attention to the eclipse in Albuquerque.
Barely six months later, on Monday, April 8, 2024, a total solar eclipse crosses North America from southwest to northeast. Albuquerque is not on the path of totality but will nevertheless experience a deep partial solar eclipse.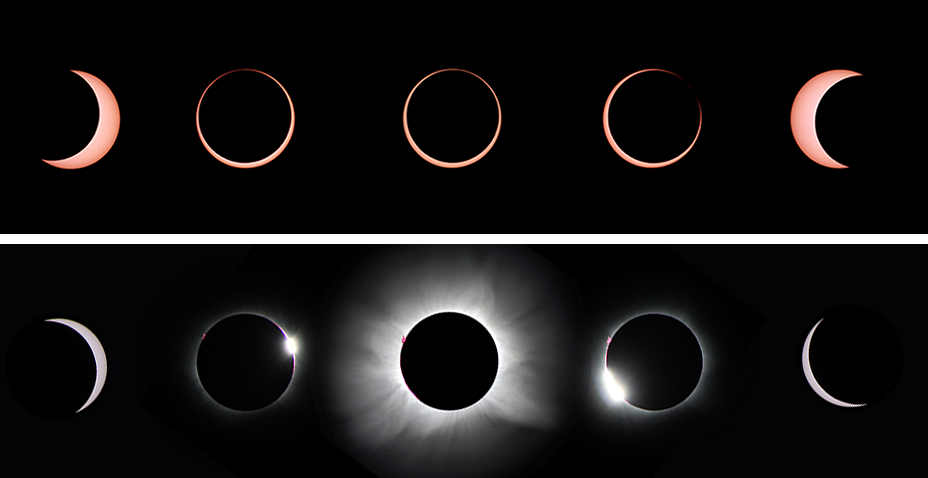 To help prepare Burqueños to experience the 2023 and 2024 solar eclipses, this FREE public presentation is being organized jointly by the American Astronomical Society's Solar Eclipse Task Force and the outreach team for NASA's PUNCH (Polarimeter to UNify the Corona and Heliosphere) mission. Reflecting the region's wonderful diversity and rich history of Sun-watching, this event will feature multiple speakers expressing a mix of scientific, cultural, and historical perspectives on solar eclipses.
Join us on Wednesday evening, 7 June, from 7 to 8 pm MDT in the spectacular Albuquerque Journal Theatre at the National Hispanic Cultural Center, 1701 4th Street SW, Albuquerque, NM 87102.
Admission is free, but everyone in your party needs a ticket. Reserve yours online; you can download digital tickets or have them held for pickup at Will Call when you arrive for the event. Or reserve tickets by phone at 505-724-4771 for pickup at Will Call. You can also get tickets in person at the box office in the Welcome Center next to the NHCC Torreón; hours are Tuesday-Saturday, 10 am to 4 pm MDT.
You'll see a lot of astronomy news stories datelined Albuquerque in early June. That's because the American Astronomical Society (AAS) is holding its summer meeting at the Albuquerque Convention Center from June 4 to 8. Nearly 1,000 astronomers, astronomy students, science educators, and journalists are expected to attend.
Reporters/editors/producers: There will be a press conference on Wednesday, June 7th, at 10:15 am MDT about the 2023 and 2024 American solar eclipses. The AAS offers complimentary meeting registration to bona fide working journalists; see the AAS 242 Press Information page for details.
---
Media Contact:
Rick Fienberg
Project Manager, AAS Solar Eclipse Task Force
Graphics for reporters, editors, and producers:
Additional information and graphics: