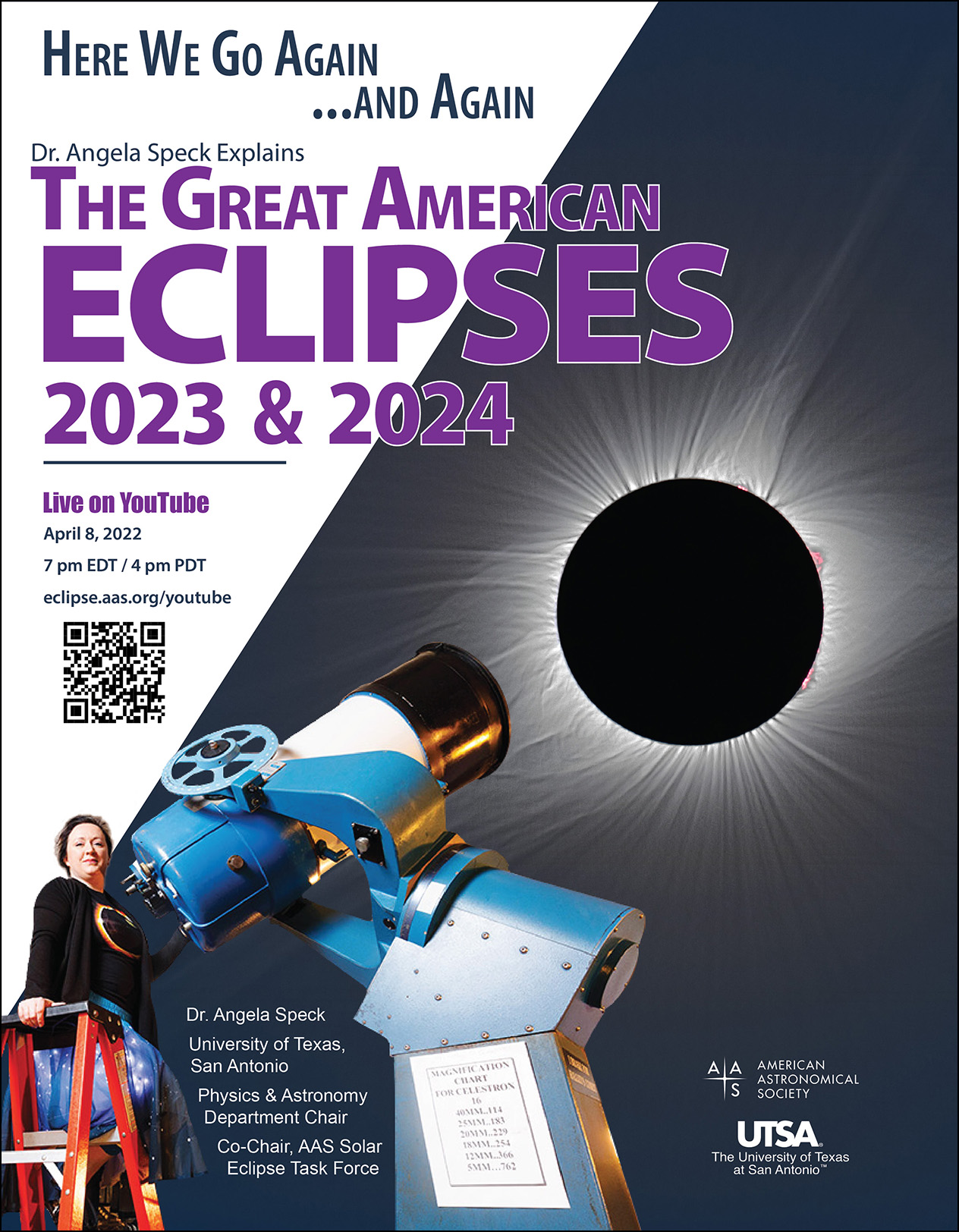 Free Public Lecture
Friday, April 8, 2022
4:00 pm PDT / 7:00 pm EDT / 23:00 UTC
Watch the Recording on YouTube
Here We Go Again...and Again:
The Great American Eclipses of 2023 & 2024
Dr. Angela Speck
Chair, Dept. of Physics & Astronomy, University of Texas, San Antonio
Co-Chair, Solar Eclipse Task Force, American Astronomical Society
Were you in the path of the August 21, 2017, total solar eclipse? If so, you're surely eager to experience totality again! If you saw only a partial eclipse that day, you'll soon have two more chances to align yourself with the Sun and Moon without having to fly off to some remote part of the world!
On October 14, 2023, anyone under clear skies within a narrow path that sweeps from Oregon to Texas and then through parts of Central and South America will see an annular ("ring") eclipse. Then on April 8, 2024, a total solar eclipse — like the one that crossed the U.S. in 2017 — will sweep from Mexico to Texas to the Canadian Maritimes, plunging day into night and revealing the magnificent solar corona for anyone fortunate to stand in the Moon's dark shadow under cloud-free skies.
With exactly 2 years to go till the April 8, 2024, total solar eclipse, the American Astronomical Society's Solar Eclipse Task Force livestreamed on YouTube a special 1-hour presentation by astronomer Dr. Angela Speck. She explained how and why eclipses happen, what you can expect to experience during the 2023 annular and 2024 total eclipses, and why you shouldn't settle for a partial solar eclipse if you can possibly get yourself into the path of an annular or, especially, a total one.
Did you miss Dr. Speck's live presentation on April 8, 2022? You can watch a recorded version at your convenience on the AAS Solar Eclipse Task Force YouTube channel.